分野概要
About us
 我が国の経済力強化と人類の健康向上のため、日本発の革新的な医薬品・医療機器等の創出が望まれています。このようなメディカルイノベーションの実現には、大学等の基礎研究及び臨床研究から生まれる研究成果を産業界に繋げていくことが重要です。特に京都大学は、iPS細胞や抗PD-1抗体等の革新的な研究成果が創出されており、それらを適切にかつ迅速に患者さんに届ける事が望まれています。
大学の研究成果を産業化に繋げるためには、研究成果を知的財産として権利化し、産業界で最大限活用していくことが必要です。しかし、そのような役割を担える人材は極めて少なく、またこのような人材を積極的に養成する教育システムが存在していませんでした。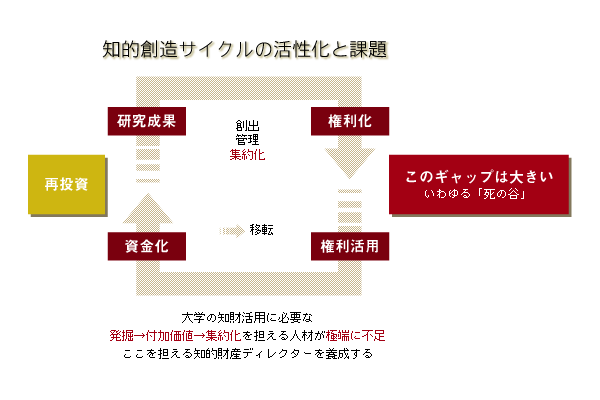 そこで、京都大学に産業化への橋渡しをする人材の養成講座を2004年度から開講することとしました。メディカルイノベーション創出のための様々な取組みを行っている京都大学で、我々は、ライフサイエンス分野の技術経営学教育のパイオニアとして、知的財産の「発掘」、「管理」、「活用」を担える人材の養成に貢献します。
知的財産経営学分野の特徴
特徴1:日本初のライフサイエンス分野の技術経営学、知的財産経営学ディグリープログラムである。
特徴2:大学の研究成果の活用に焦点を当てたプログラムである。
特徴3:基礎知識と実務的スキルの習得を目的としたプログラムである。
先端医学領域を中心とする医学、知的財産権(特に特許権)を中心とする法律、及びライフサイエンス産業を中心とするビジネスの知識の習得と実務的なスキル習得の教育を行っています。このことにより、先端医学領域での知的財産の発掘、管理、活用を担える知的財産マネージャー及びアントレプレナーを養成します。
卒業生の進路
卒業生はこれまでに、約30名。
ライフサイエンス企業、ベンチャーキャピタル、ベンチャー企業、メディカル情報企業、コンサルタント企業、銀行、企業知的財産部、技術移転機関、大学産官学連携部門、その他

About us
Creation of an innovative medicines and a medical devices originated in Japan is demanded for improvement of Japanese economic competitiveness and human health. Transfer of universities' basic research results to business is important for realization of medical-innovation. We are pioneer of management of technology in life science in Japan and aims to foster managers of intellectual property and entrepreneurs for promote technology transfer.
Research and Education
As well as equipping students with practical skills, department teaches both basic theories in medicine particularly in the field of advanced medicine, and in humanities and social science, particularly on the exploitation of intellectual property rights.  The department aims to nurture directors of technology management, the personnel with the capability to discover, manage and exploit the intellectual property in the field of biotechnology, particularly in advanced medicine.
Medical Science

: the department will give students top-level scientific knowledge and the knowledge on industrial demand through lectures by the academics who are engaged in researches of forefront science at the graduate school of medicine, and by the industrial professionals who hold abundant experience in translational research and development research in the industry.

IP Law and Business:

the department will give students basic knowledge of intellectual property laws and other social sciences through lectures by instructors selected for each specialization field. The practical skills and knowledge in accounting and market valuation and distribution of intellectual property (venture capital field) are taught through lectures by lecturer with a long career in business.

Practical Skills

: Using the knowledge learned above as a base, the department will equip students with ability to act in real life situation through work experience at Kyoto University and through other externships, gaining experience in establishing rights in research out come and in exploitation of those rights.
At the Management of Technology and Intellectual Property, researches are being conducted on various problems faced in management and practical application of intellectual property rights.  So far, research has been conducted on "Investigation for protection and utilization of intellectual property in translational research for purpose of establishing the management system" and "Systems of intellectual property management which can accommodate movement of researchers from one institution to another".  The findings from these researches are reflected in the management of intellectual property at the university.